Victor Courtray (1896 – 1987)
Victor Courtray is a French designer born in 1896.
He is graduated from the famous Boulle school in 1914.
Four years later, Victor Courtray began a close collaboration with Maurice Dufrêne. Then, he worked with Paul Follot who was in charge of Pomone, the Bon Marché's workshop. Later, he also made furniture for the company DIM. His work was noticed in 1923 at the Salon des Artistes Décorateur and The Salon d'Automne.
After this Parisian adventure, Victor Courtray moved to the Southwest.
Although his first period of production was deeply influenced by Art Deco, his discovery in 1924 of Biarritz, Bayonne, Bordeaux Pau and Dax led him to integrate a new formal vocabulary. His style became 'neo-Basque'. The same year he opened his own house and was very successful.
Many prestigious collectors such as Jacques Worth, Loiuis Boucheron or Jean Puiforcat, ordered him entire interiors.
Absolute ensemblier, Victor Courtray is a member of the Société des Artistes Décorateurs and do not stop his collaborations especially with Edouard Cazaux or Raymond Subes.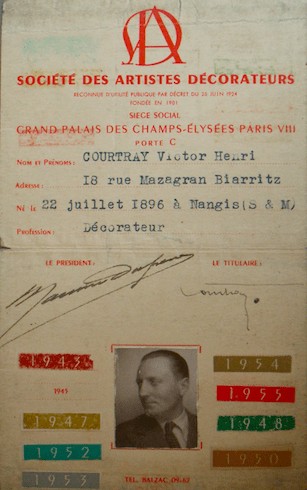 No Results Found
The page you requested could not be found. Try refining your search, or use the navigation above to locate the post.