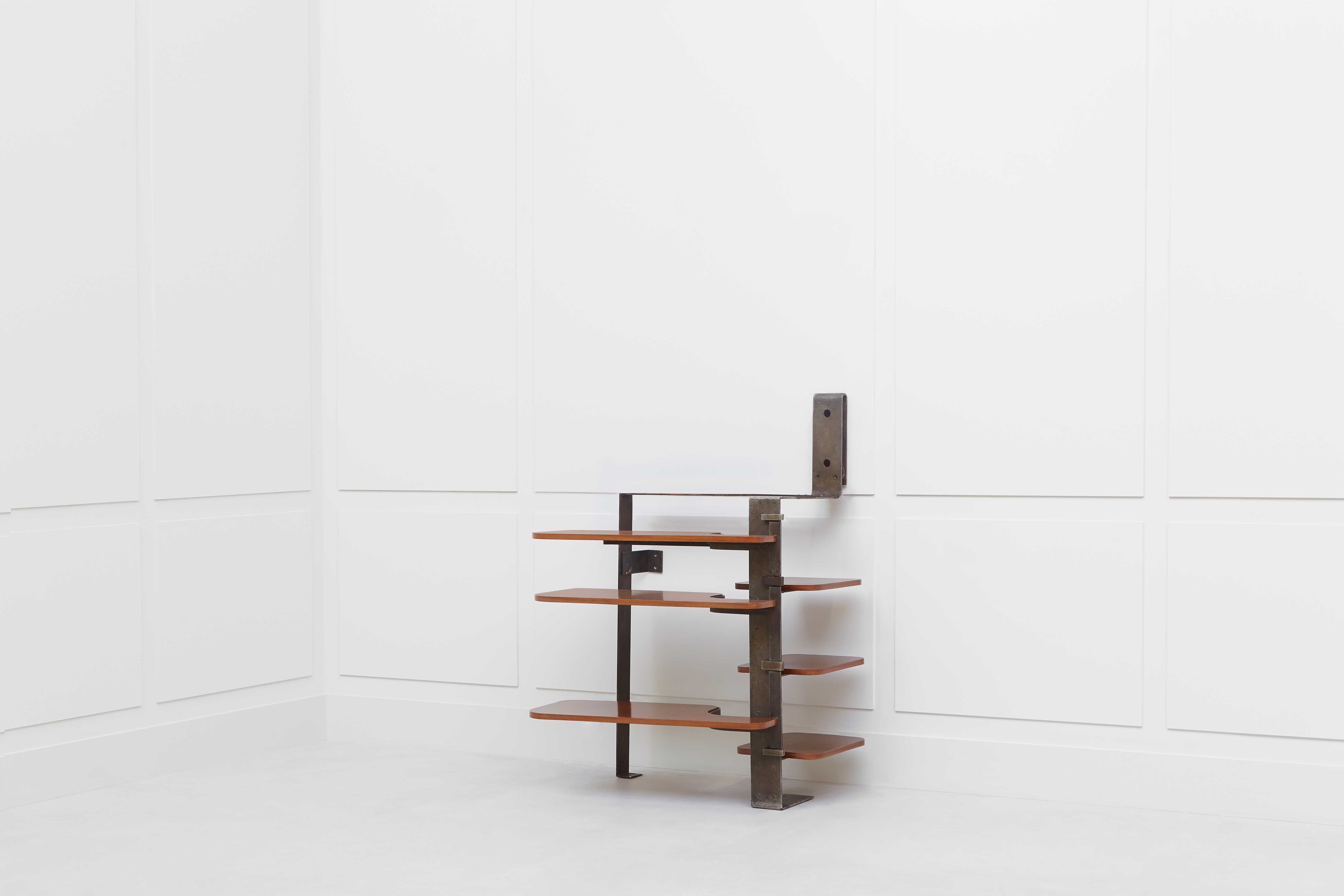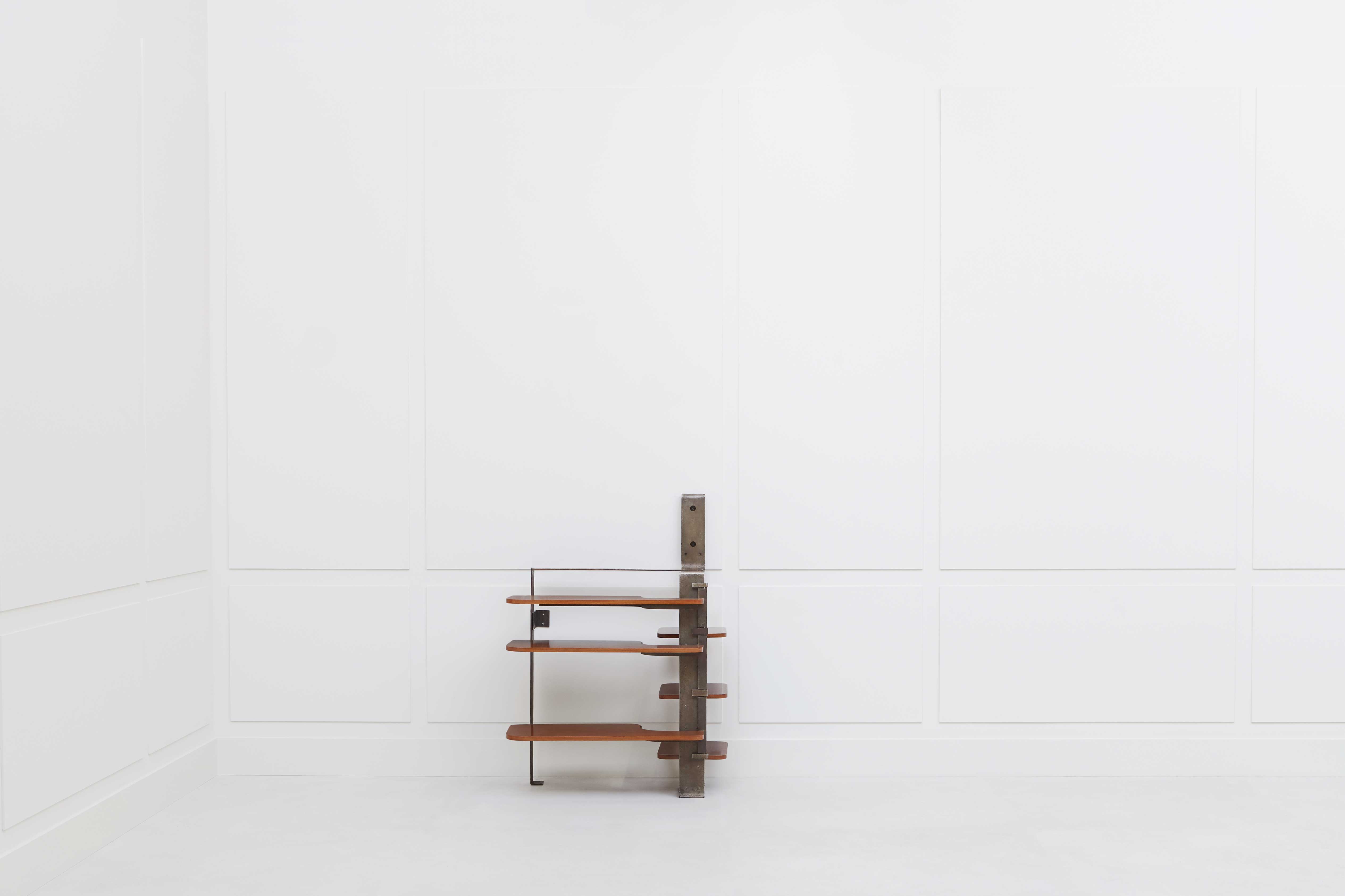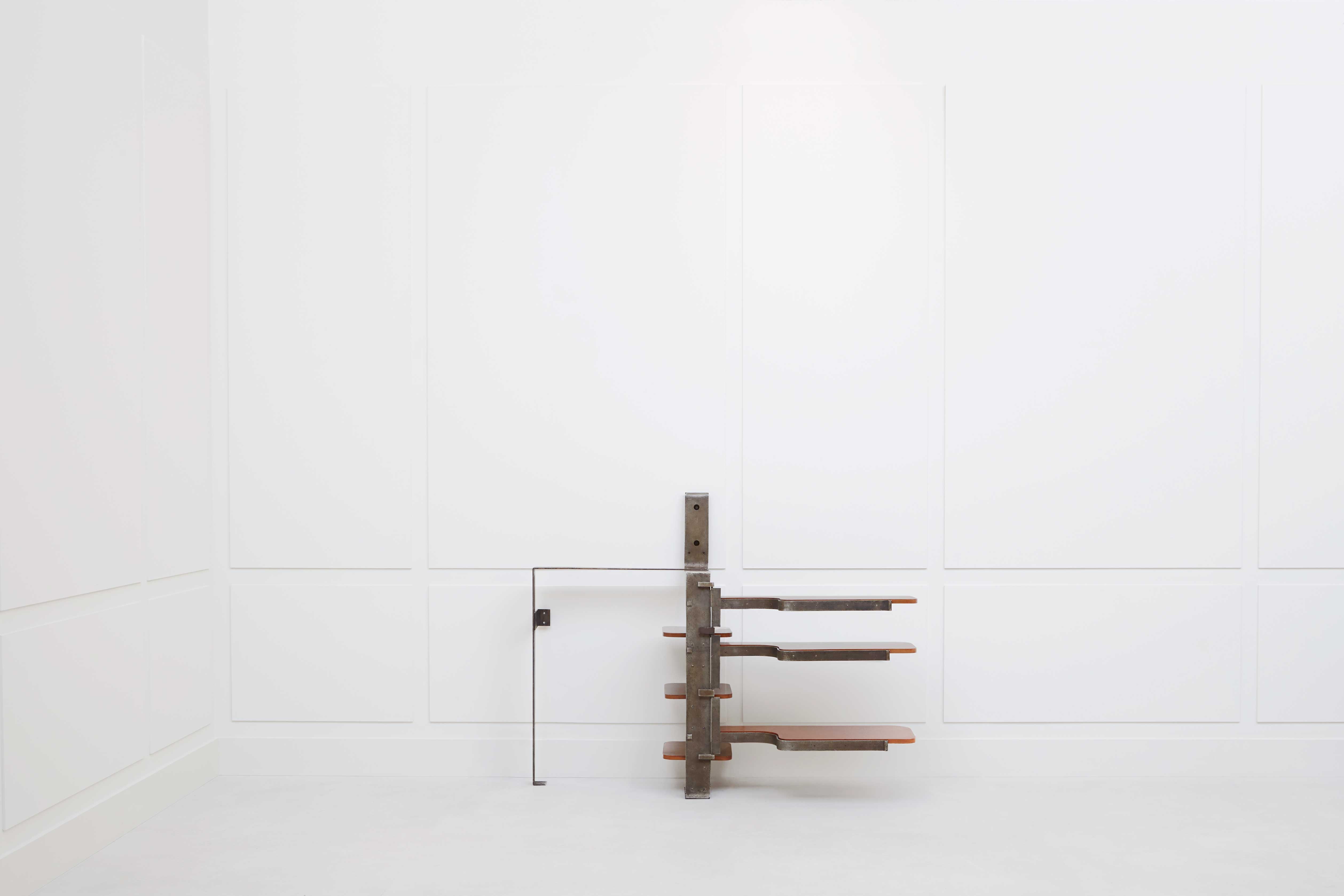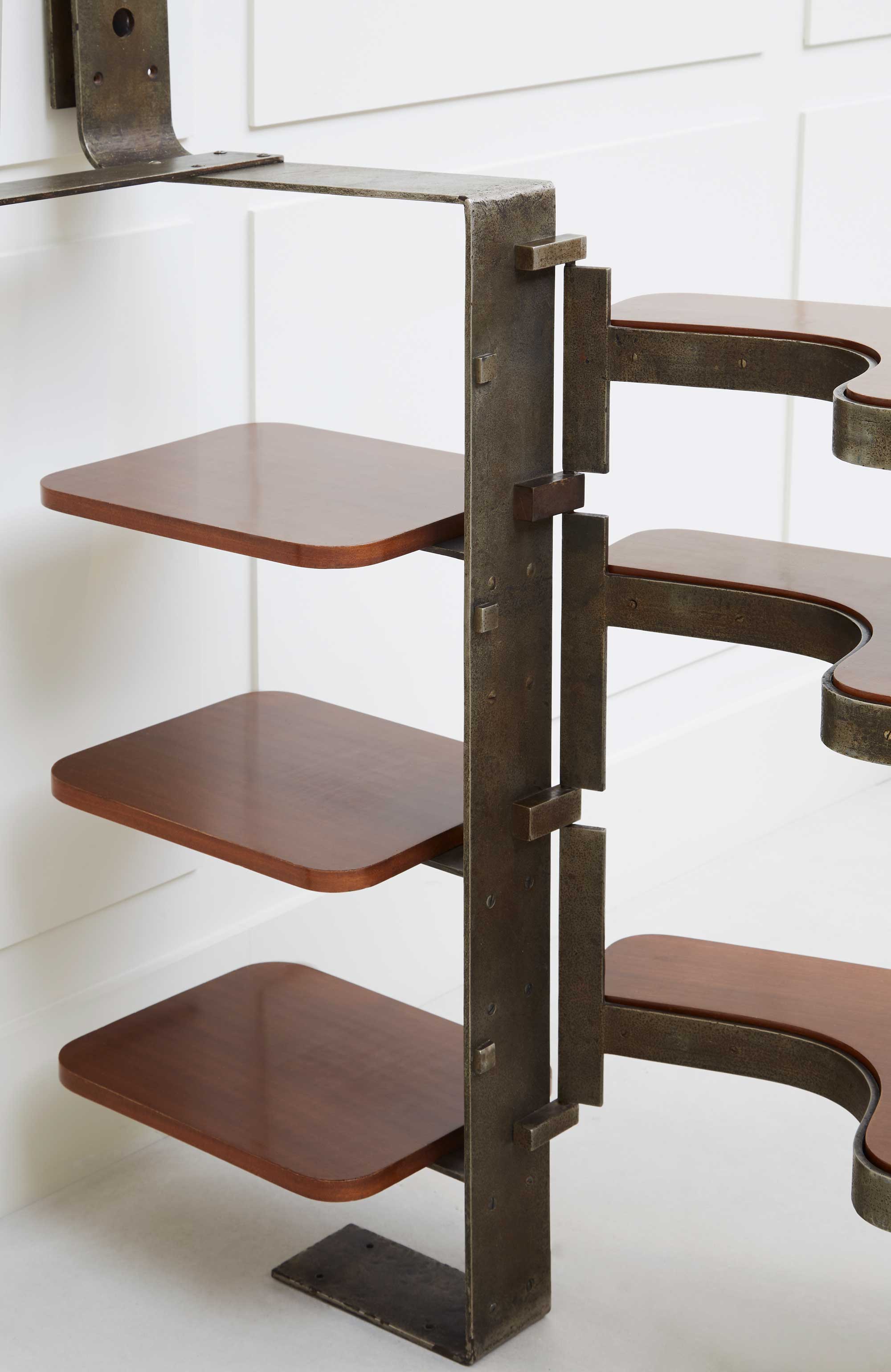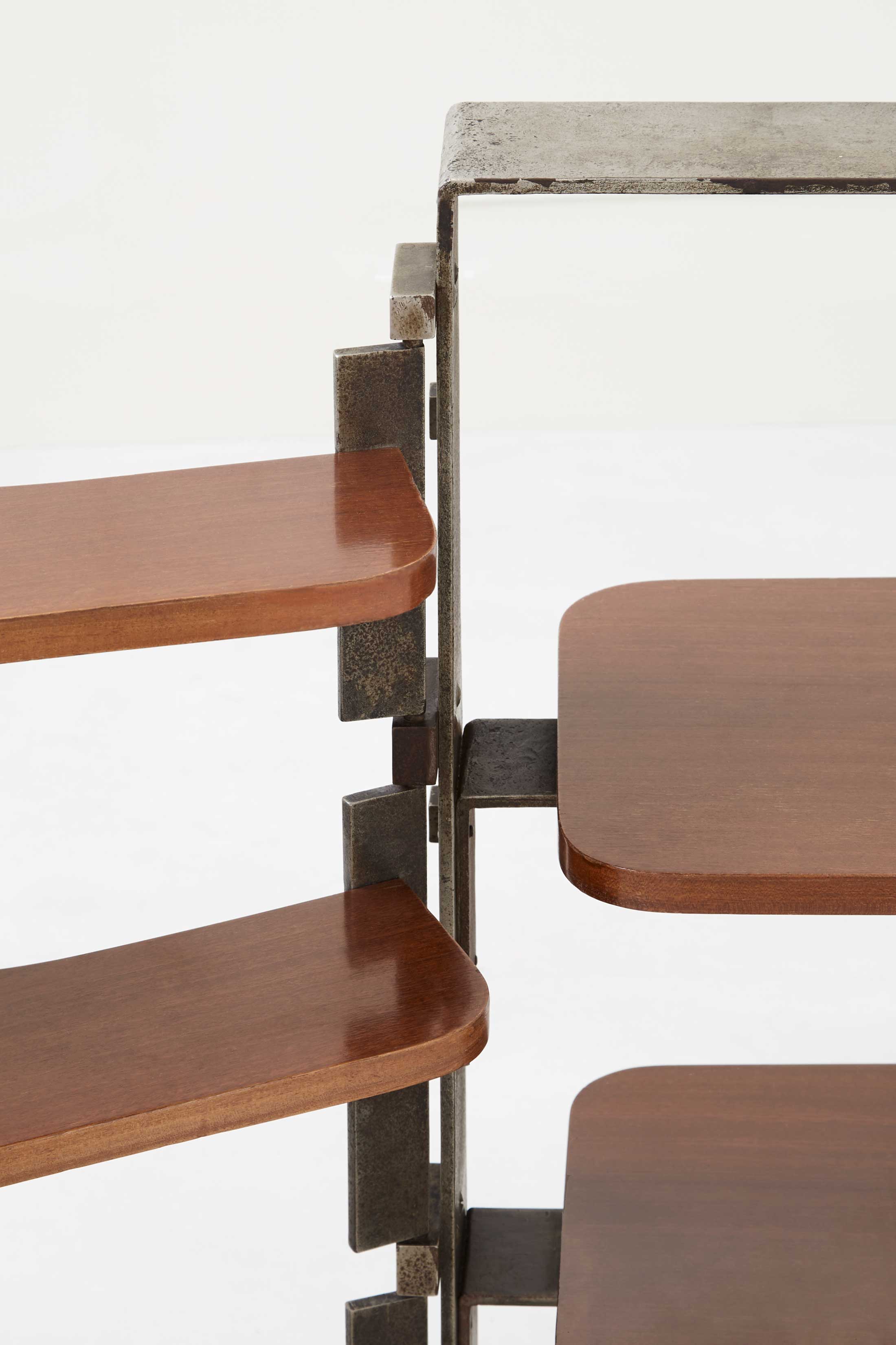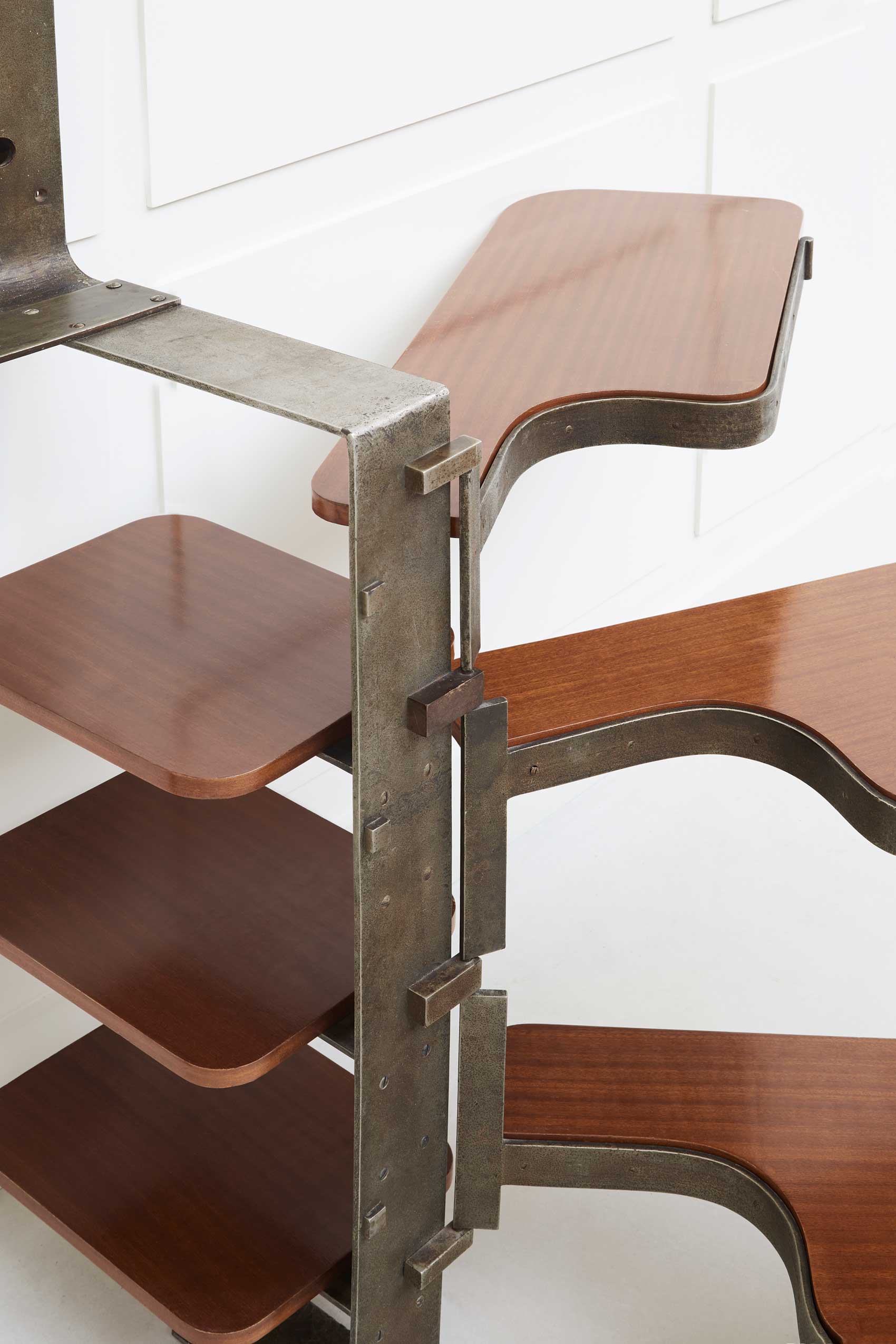 Pierre Chareau, Meuble d'applique à journaux «MT 407» ou «MD 362»
Pierre Chareau (1883 - 1950)
Meuble d'applique à journaux «MT 407» ou «MD 362»
1922-1926
Wall shelf entitled «newspaper shelf» in mahogany and silver metal. This piece of furniture is particularly representative of Pierre Chareau's work who appreciated conceiving hybrid pieces, fullfilling different functions. Elaborated after a main axis in metal fixed on the floor and the wall, three large shelves in mahogany are inserated into sculptural hinges and pivote independently through 180 degrees. Three small tablettes in mahogany are inserted on this main axis as well. This model existed in mahogany or in rio rosewood. It was presented at the Salon d'Automne in 1926 with others pieces of Pierre Chareau executed for the Grand-Hôtel de Tours. Rare on the market, this model was part also of the collection Bernheim-Dalsace.
Height 134cm (52 ¾ in) - Length 96-173cm (37 ¾- 68 ¼ in) - Depth 64-70cm (25 ¼ - 27½ in)
Provenance :
- Collection Jean-Claude Brugnot, Paris
- Vente Millon et Robert, Collection Jean-Claude Brugnot, Paris, 18 juin 1993, lot 113.
- Galerie Jean-Jacques Dutko, Paris.
- Private collection Swiss (bought in the 90's from the above)
- Auction Christie's may 22nd 2018
- Private collection, London
- Gallery Chastel-Maréchal from the above.
Literature :
- «Pierre Chareau, Architecte-meublier 1883-1950», M. Vellay &
K. Frampton, éd. du Regard, Paris, 1984, pp. 85, 101, 178, 210,
396.
- Auction catalogue, Collection Jean-Claude Brugnot, Millon et
Robert, Paris, 18 juin 1993, lot 113 (pp.114-115).
- «Pierre Chareau, Modern Architecture and Design», E. da Costa
Meyer, catalogue d'exposition, The Jewish Museum, New York,
4 novembre 2016 - 26 mars 2017, p. 143.
Share: