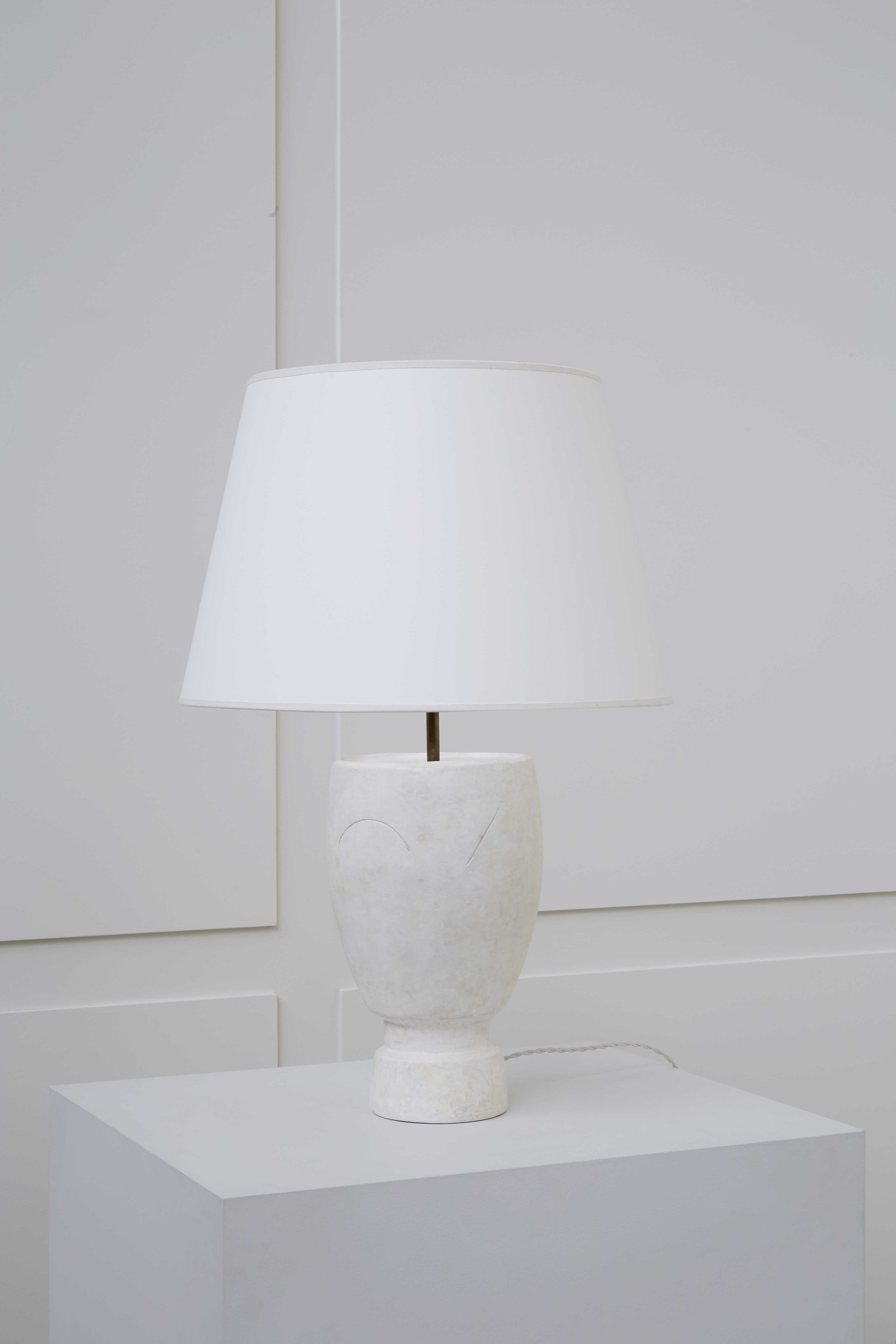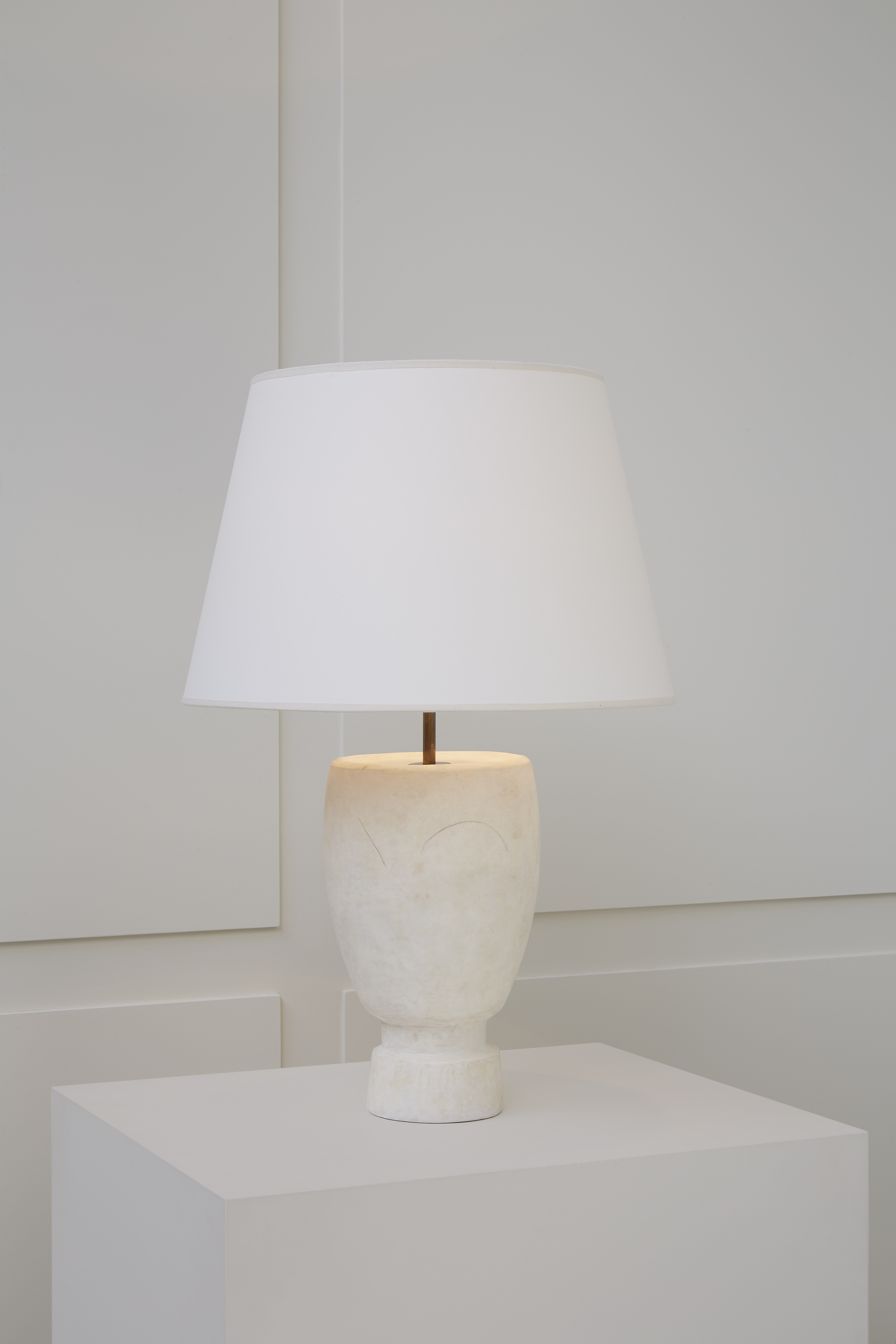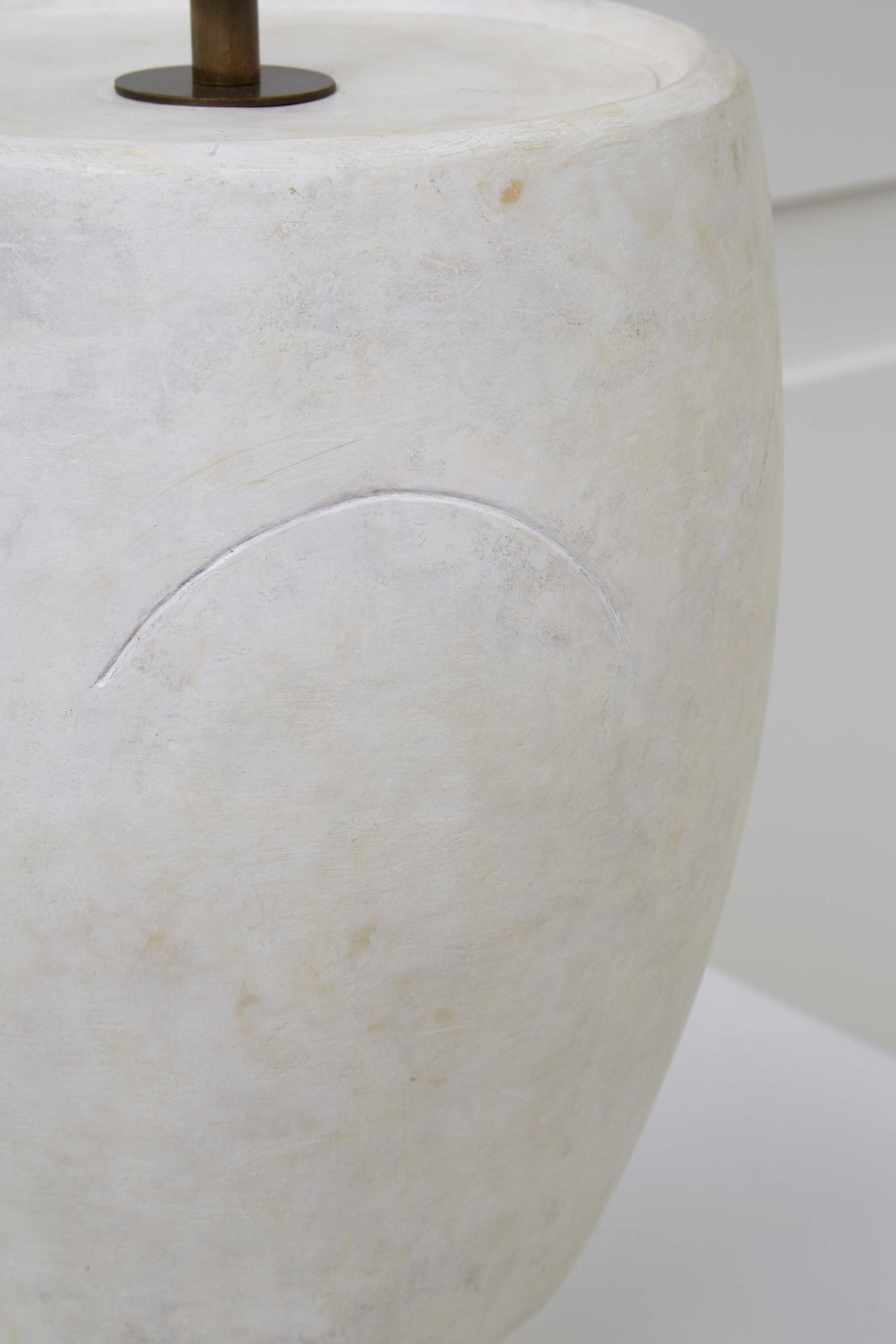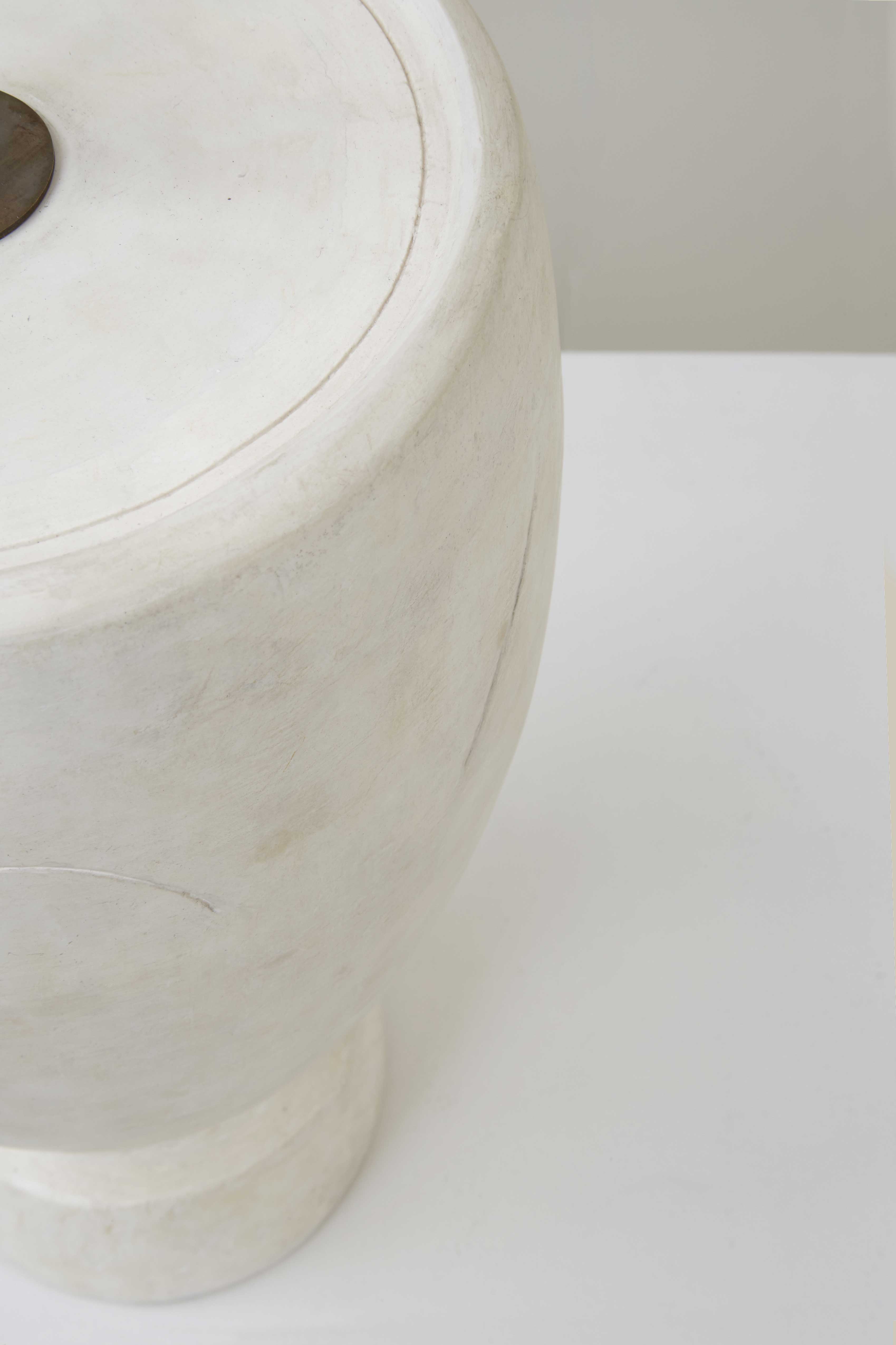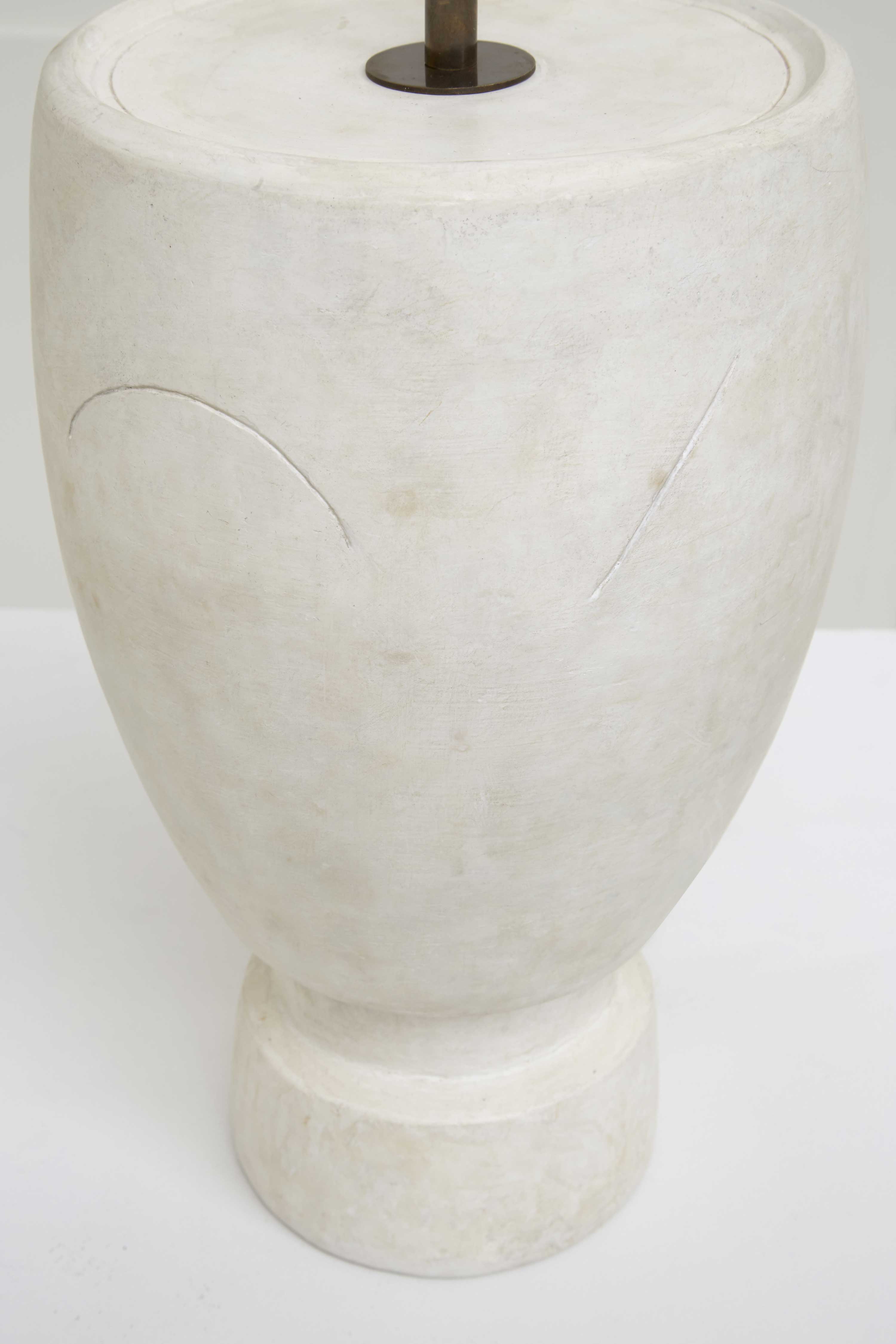 Alberto Giacometti, Lamp, «Oval incisé» model
Alberto Giacometti (1901-1966)
Lamp, «Oval incisé» model
circa 1939
This table lamp made of plaster by Alberto Giacometti for Jean-Michel Frank has been created circa 1939. This piece is referenced in the Alberto & Anette Giacometti database under the number AGD 4433. A certificate from the Committee comes with this piece. In the period documention, we find several times the vase model from 1936. This is the only exemplar we know so far in this original lamp version (wire outlet). Our piece remained in the same collection from its acquisition in the 1930s. An important restoration has been made on the request and under control of the Giacometti foundation in or- der to fully respect the spirit of the artist. The cylindric base which is narrowed in its upper part allows the development of the oval shape. This curved volume is stopped by a plaster disc. In its middle, a me- tal stem for the electrification and holding the non-original lampshade. The white color of the plaster has a lot of shades. Some delicate incisions give rhythm to the whole. These curves and lines, lightly engraving, can remind a face or the pictograms of the first writtings, depending on the point of view.
Height of the plaster part 32,5 cm (12 3⁄4 in) - Total height with lampshade 66,5 cm (26 1⁄4 in) - Diameter of the lampshade 45 cm (17 3⁄4 in)
Provenance :
This piece comes from a Parisian private collection. It remains in this same collection until its presentation at auction in December 2022 (Villanfray & Associés, December 6th, 2022). The certificate coming with the piece mentions : «The Giacometti Commit- tee recommends that the decorative artwork by Alberto Giacometti illus- trated above, table lamp in plaster, measuring 32,5 cm high, be included in the catalogue raisonné prepared by the Fondation Alberto et Annette Gia- cometti. The piece has been restored under the supervision of the Giacometti Committee which aimed the lamp to refind its original aspect.
This work has been examined by the Committee in April 2022.
It is registered by the Fondation Alberto et Annette Giacometti in the online Alberto Giacometti Database (AGD) under the number 4433.
The gallery Chastel-Maréchal purchased this piece from the inter- mediaries of the first collectors. This is only the second time that this piece is offered on the market.
Literature :
- «Jean Michel Frank», Léopold Diego Sanchez, éd. du Regard, Paris, 1980, pp. 162-163 for a picture depicting the living room of Mr. Born in Buenos Aires where two vases from the same model are reproduced ; p. 198 for the vase model.
Share: