Born in Paris in 1913, Line Vautrin was an artist, designer and creator of jewellery and decorative objects. A unique and fiercely independent artist, she worked in post-war Paris to create pieces renowned for their intensity and poetry.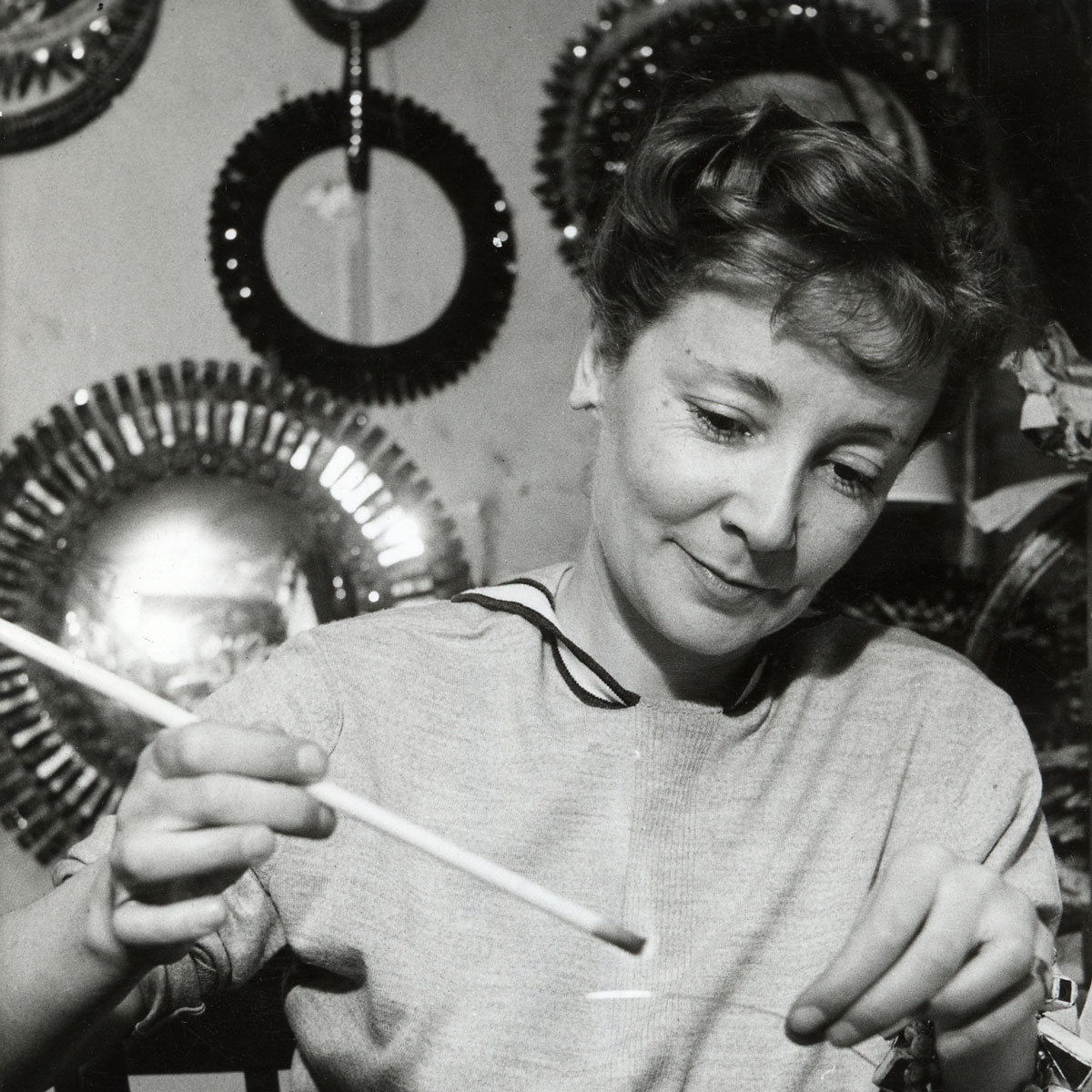 View Full Biography
LINE VAUTRIN, HIS ORIGINS
Line Vautrin was obsessed with creating things from an early age, and her first pieces date from when she was just twenty-one. In 1937 she had a stand at the Exposition Internationale des Arts et Techniques where she presented a range of powder compacts, boxes, brooches, necklaces and ashtrays in gilt bronze. Often engraved or enamelled, their intricacy reflected jewellery design, their form, sculpture. Her work was highly acclaimed, and it was here she found her first clients. Having initially been installed in a tiny boutique in rue de Berri in Paris, her success enabled her to open a boutique in rue du Fauborg Saint Honoré, the area known for its couturiers, before she moved again to 106 rue Vielle du Temple.
HIS CAREERS
In 1953, still in search of novelty, Line Vautrin discovered a mysterious resin made of cellulose acetate, she patented the substance at the INPI (Institut National de la Propriété Industrielle), naming it Talosel in the late 1960s when she moved to the Quai des Grands Augustins. This substance is made up of thin layers of resin that have been scratched or sanded, worked over heat, inlaid with minute shards of mirror and so subtly coloured that the final product resembles slate or shale, bone or wood worked by time.
Following this discovery, Line Vautrin continued to transform the materials at her disposal. Her mirrors are famous for the way they lure you in, deforming reality through their witches' eyes, the convex mirror always at the centre of her creations. It wasn't long before her name was soon known both throughout France and abroad. In the 1960s, she also used Talosel to make chests, lights, lamps, frames, coffee tables, screens and chandeliers. She also returned to her roots as a jewellery designer, substituting gilt bronze with this new substance, and forming necklaces, bracelets, earrings, brooches and cufflinks using Talosel inlaid with tiny mirrors.
In the June 1948 edition of Art et Industrie, Line Vautrin explained her approach: 'I think that most of the time, it's rhythm that pushes me to do something, and then the idea becomes embodied in the play of forms and surfaces… In a way instinct translates into rhythm, intelligence into the often unexpected fictions the rhythm evokes, sensuality into the modelling of the shape… A model must be pleasant to the touch; the hand must judge as much as the eye.'
The Chastel-Maréchal Gallery first devoted a large exhibition to Line Vautrin in 1998, followed by another in 2004 that focused on mirrors and objects in gilt bronze. To mark this last event, the gallery published a monograph which is the only existing reference book on Line Vautrin's mirrors available today.
The Chastel-Maréchal Gallery was drawn to Line Vautrin's work from the start, and has played an important part in the rediscovery of the artist and in the still rising value of her work on the art market. Her creations – particularly those made from Talosel – are highly sought after and sell for significant amounts today.
Line Vautrin has found her place in the history of 20th century decorative art, and her pieces can be found at the biggest international auctions and in the most important private collections around the world.
The Chastel-Maréchal Gallery continues to search for the rarest models, colours and forms, in order to present only the most exceptional pieces.
Line Vautrin by Patrick Mauriès
Line Vautrin by Patrick Mauriès
From the outset of her career, Line Vautrin's work, even down to its very diversity and the variety of the media she used, was divided over two vital fields.
The first was gilt bronze objects, in which plasticity was mostly an integral part of plays on words, proverbs, popular wisdom and some fragments of poetry. The development of the other, more singular and more intimate field […], was that of lacquer and resin. These were given various names and shapes over time before acquiring a final approach at the start of the 1950's.
It was in around 1953 that she seems to have focused her effort on a new technique, which she initially termed 'Oforge'. "The first letter," she explained to a journalist in 1958, "as I drew it, represents the sun. I have always been fascinated with suns… The sun, however, is also fire. 'Forge' is the symbol of work through fire, but I add to this fire water which is purity, calmness…" "Oforge is basically an alloy of two materials: glass or mirrored glass (which can be tinted or plain) in the form of fragments, amalgamated with a plastic binding substance and inset in a plastic material so that only a surface of spangles or sparkling flakes appears in a solid mass. Once completed, Oforge represents the union of fire (which melted the material) and water, as represented by the transparency of glass" […]
Her mirrors and jewels were sold in various stores in Paris and the provinces; she returned to her wonted position in decoration stores, whereas architects such as Jean Royère and interior designers such as Jean Dive used her designs in their own projects.
When she moved at the end of the 1960's to 60, quai des Grands-Augustins, her entire apartment became what can only be described as a showroom. Resin was used not only in mirrors which covered her walls, but also on chests, lighting, frames, coffee tables and even in the spaces between the ceiling beams, which were incrusted with coffers imitating the décor of the 16th century, in various shades of brown and burnt umber. In the meantime, the process had acquired its final, registered name: "talosel". […]