Georges Jouve (1910-1964)
Georges Jouve is one of the most important ceramists of the 20th century. Inspired by the ancestral traditions of pottery in Provence, he is known for his unique techniques and imaginative concepts. We can find among his most remarkable works cylindrical vases, but also all kinds of lamps and elaborate mirrors.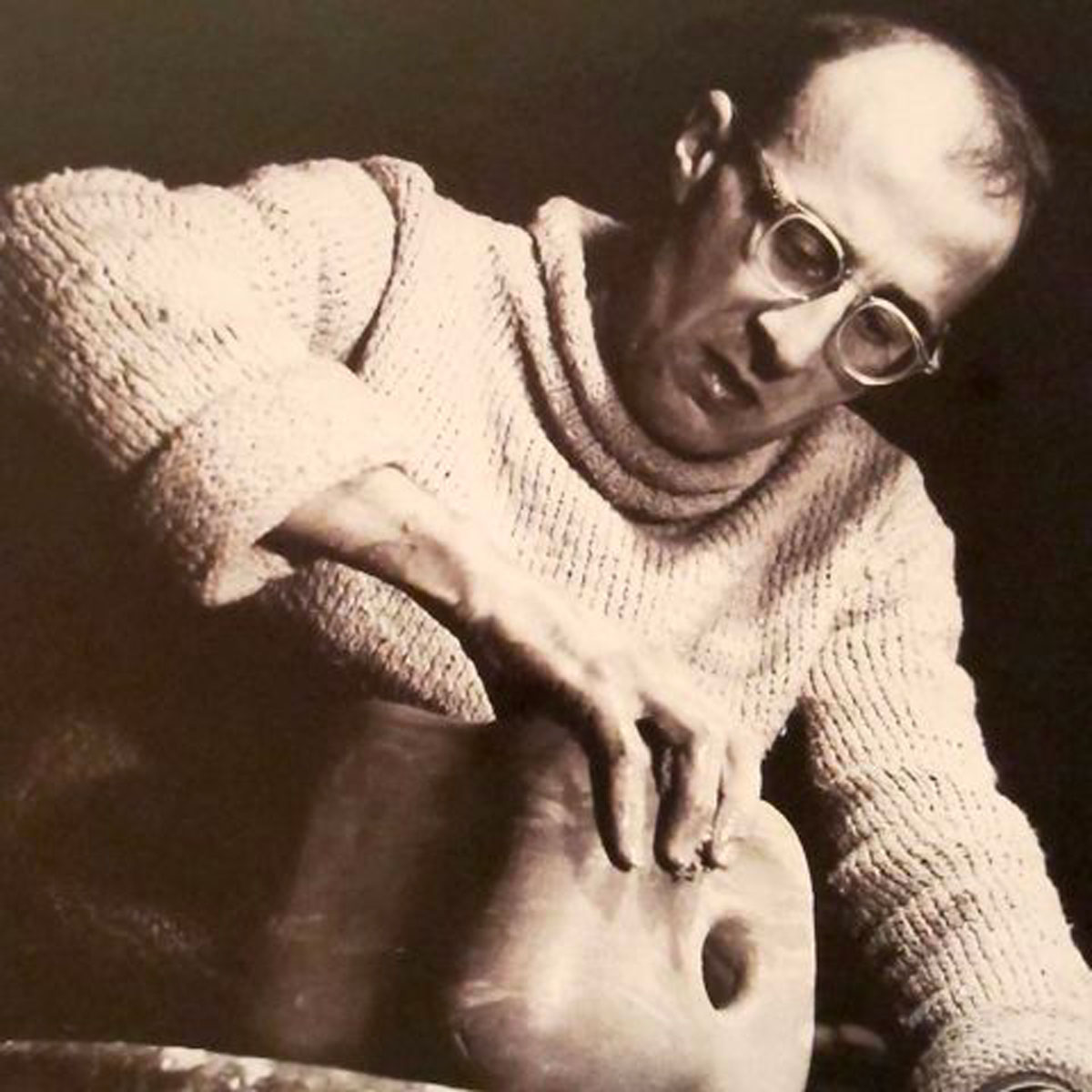 Show full biography
Georges Jouve, his origins
Georges Jouve was born in 1910 in Fontenay-sous-Bois in France. His parents were both decorators. His family encouraged him to pursue a career in architecture and mural decoration. At the age of 17, he enrolled in the prestigious "École Boulle" where he received a theoretical education in art history, although he was mainly trained as a sculptor. During his study, he acquired the nickname "Apollon", which he kept later on. In 1929, he finally obtained his diploma. He continued to take courses of several free academies of painting (Jullian and Grande Chaumière).
His career
After graduating, Georges Jouve starts a career as a theater decorator which will be interrupted by the beginning of the Second World War. He is taken prisoner by the Germans very early in the war. Jouve escapes in 1943. Of Mediterranean origin, he decides to take refuge in Dieulefit until the war is over. It is in this small Provencal village of Potters, that he discovers the art of ceramics.
In 1944, Jouve returns to Paris where he sets up his studio on "rue de la Tombe-Issoire". Then, his creations distanced from traditional pottery to give space to personal and decorative works, inspired by the aesthetics of the 1940s. For 9 years, he never stopped exploring shapes, colors and uses. He approached both monumental ceramics and shaped pieces (vases, ashtrays, chalices, etc).
French architect and designer Jacques Adnet (1900-1984) invites Jouve to work with him. He regularly participated in the "Salons de l'Imagerie and des Artistes Décorateurs" (Imaging and Decorative Artists Salons), as well as in important exhibitions presented by the "Ministry of National Education" in Rio de Janeiro in 1946, in Barcelona and Vienna in 1947, in Milan and Helsinki in 1948, and finally in Cairo and Rome in 1950. In 1947, he also won a silver medal for a wall covering at the "Exposition de l'Urbanisme" (Urban Expo) in Paris.
In 1954, Georges Jouve left Paris to settle at Le Pigonnet in Aix-en-Provence. His work then evolves towards simplified and smooth forms, with monochrome enamels, characteristic of the ceramics of the 1950s. His works are presented at the La Demeure gallery and Steph Simon's in Paris.
Georges Jouve died in March 1964. The gallery La Demeure organized a large posthumous retrospective exhibition called "tribute to Jouve, 20 years of ceramics" the following year.