François Thévenin (1931-2016)
Born on the Côte d'Azur in 1931, François Thévenin was a multifaceted artist who used his favourite medium, metal, to explore correspondences between architecture, sculpture, design and poetry.
He studied at the Beaux-arts in Paris in the 1950s, where he met his future wife and partner Gisèle Sidoti, known as Sido.
In 1958, having completed military service, Thévenin left Paris with Sido for Cannes-la Bocca. Their home/studio is still there today.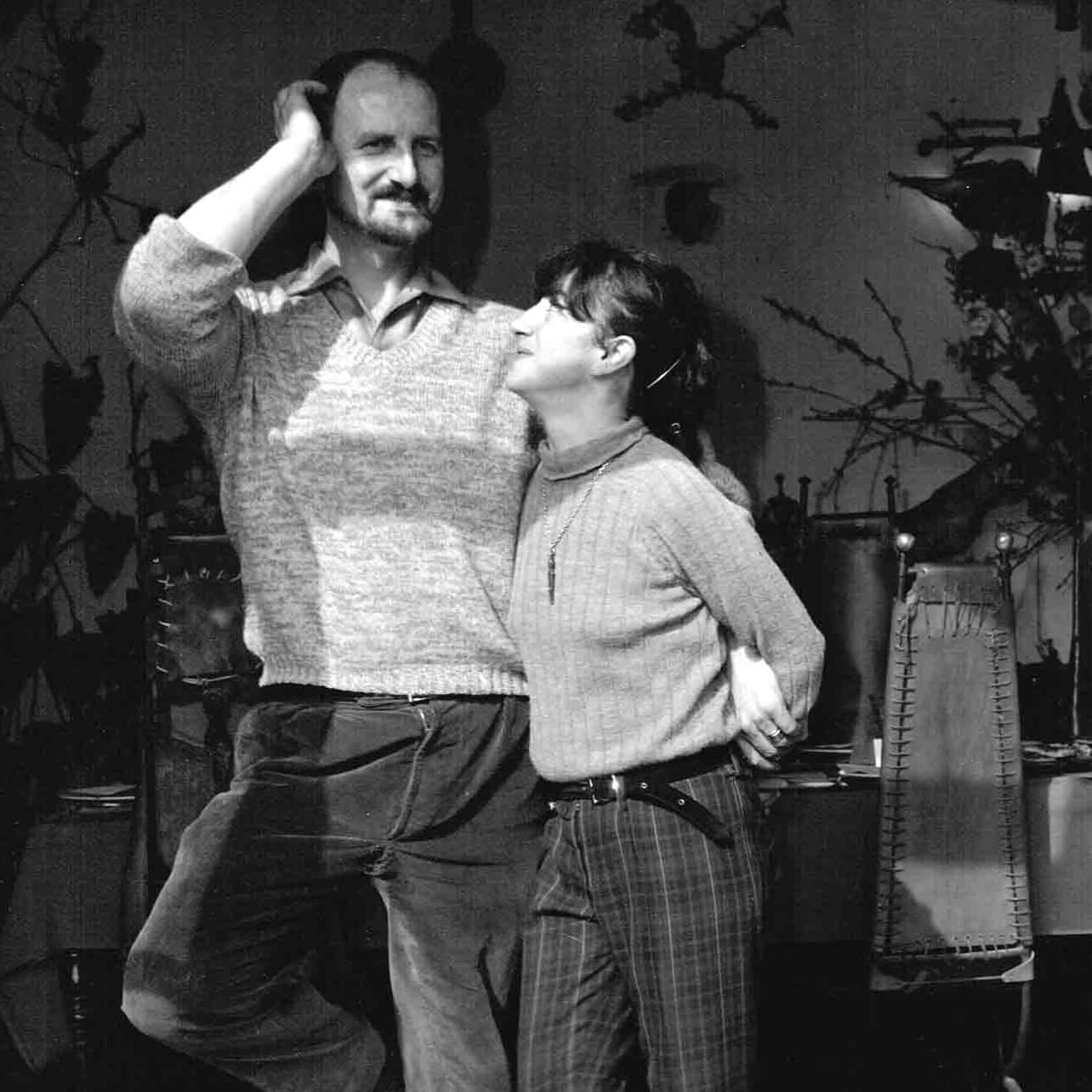 Afficher la biographie complète
One year later the couple met the architect Jaques Couëlle. This marked the beginning of an important collaboration that led to the creation of what they called 'landscape-houses'; cave-like villas made entirely from sculpted concrete. The philosophy behind this popular 1960s architectural style developed in reaction to the cold linearity of International Style. The aim was to create houses with organic lines that would integrate perfectly into their natural surroundings, as if they had grown from the earth itself. They created these luxurious villas in Castelleras, a village hidden in the depths of Provence, for rich clients who were tired of the neoclassical villas of the Côte d'Azur.
Jacques Couëlle used concrete to sculpt the sinuous forms of the walls, stairways and roofs, enabling fluidity of movement through each building. The Thévenins added pieces of furniture and other interior elements in forged, sculpted metal; poetic creations that evoked a phantasmagorical organic world, such as creeper-like banisters, table legs suggestive of gnarled tree trunks, lights and windows that filtered light and colour through thick shards of chiselled glass, and wrought iron chairs that would not be out of place in Grimm's fairy tales.
The two sculptors gave metal life, employing both the strength of their arms and traditional metalwork techniques such as dinanderie, that they perfected with the help of local artisans. In their work, form and function, object and sculpture, fragility of subject matter and physical creative force increasingly overlapped.
Couëlle and the Thévenins also collaborated on other villas, notably in Sardinia, on the Costa Smeralda.
Jacques Couëlle's architectural style attracted numerous disciples, including one of his pupils, Antti Lovag, who designed Pierre Cardin's famous 'Palais Bulles'.
The 1960s was an intensely creative period for François and Sido. While working on the 'landscape-houses', they also received numerous prestigious private and public commissions. Their friendship with Jacques Couëlle brought them into contact with artistic and literary figures such as Jean Cocteau for example, for whom they made the first of the village of Coaraze's twelve sundials. They also became acquainted with Pablo Picasso, who visited their house-studio in 1963, Jacques Prévert, Serge Reggiani, and Brassaï, who wrote the text accompanying their first big exhibition at the Drouant Gallery in Paris in 1973.
Their other large-scale projects included: a three-metre-high metal bas-relief for the Air France agency in Santiago, Chile; a six-metre-high monument in iron and aluminium for the Caisse des Dépôts et Consignations in Nice; a metal mosaic for a decorative pool for a country house in Grasse, and two engraved bronze panels for the prestigious 'Evasion 2000' tour in Paris.
Commissions continued to fly in throughout the 1970s, a decade in which they perfected their technique of etching on stainless steel. During this period the couple also began to collaborate with Jacques Couëlle's son Savin on architectural projects.
In 1973 the Thévenins' sculpted work was shown at the Drouant Gallery in Paris, an event that was prolonged with an exhibition at the Château de la Treyne in Souillac. From then on, exhibitions and prizes succeeded each other quickly, and new commissions arrived: a 100m2 ceiling for the Palm Beach Casino theatre in Cannes, a monumental tapestry for the Ecole D'Artillerie in Draguignan, and a planisphere and sculptures commissioned by the company Sitmar for the ocean liner Fairsky IV in the West Indies, to name a few…
In 1983 the Spanish painter Salvador Dali entrusted them with the fabrication of the Surrealist Angel, the Cubist Angel and his Head of Beethoven.
1986 was marked by Sido's death.
François continued the work they had begun with Jacques Couëlle until the late 1990s, also collaborating with Savin Couëlle on new 'landscape-houses' in New Zealand, Sardinia and France, and other international sites.
The collection of furniture we are presenting was made for one of these luxurious projects, a villa called 'Le Clos du Paradis', perched above Cannes near the village of Castellaras, and a stone's throw from the source of it all.
Thévenin was a sculptor-designer who broke boundaries, and following his death in 2016, we would like to pay homage to his poetic inspiration and technical genius.
No Results Found
The page you requested could not be found. Try refining your search, or use the navigation above to locate the post.