André Borderie (1923-1998)
André Borderie was a contemporary french artist. Initially, not destined to become an artist, he was gifted with an artistic sensibility. He had a revelation while discovering the work of Paul Klee in 1939. He developed his talents around painting, sculpture, ceramics and tapestry. Throughout his career, he invented forms directly related to plasticity, a property inherent to matter. André Borderie created works that are architectural, uncluttered, often slightly asymmetrical, off-centre; in a word, sensitive.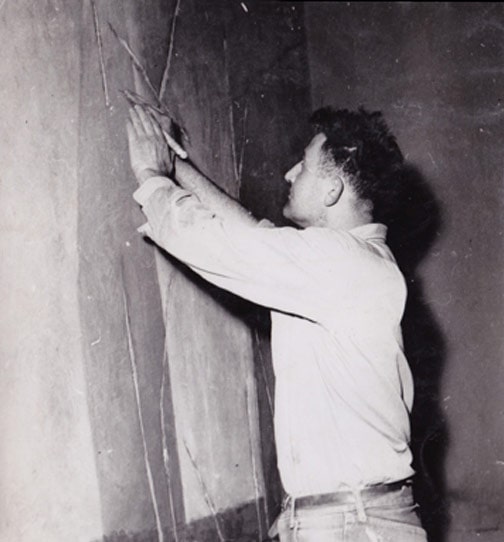 Show full biography
His origins
André Borderie was born in 1923 in the Bordeaux area. After technical training, he graduated in 1942. Then, he began his career as a state employee in telecommunications. He kept from Paul Klee his lessons in modern art and more particularly his graphic freedom, which aspired him to become an artist. In 1945, he met the poster artist Paul Colin, who would lead him towards painting. It is thanks to him that Borderie finally embarked on an artistic career.
His career
In 1946, in his quest for freedom, he met a couple of ceramists, Pierre and Vera Székely, in Vienna, Austria. In 1948, the three of them settled in France in Bures-sur-Yvettes, then in Marcoussis in the Chevreuse valley in 1955. This community experience truly marked a milestone in his career. André Borderie discovered ceramic work with them. Together they produced an important body of work.
In 1953, they designed the "sculpture-fountain" for the basin of the residence Muette, rue Blanche in the 16ᵉ district of Paris. The following year, they created one of their most striking artistic creation, in collaboration with architect Louis Babinet : the "Bateau Ivre", a large ceramic mural fresco that links the interior and exterior of the house.
In the mid-50s, André Borderie refined his style. He developed a colourful palette of blues, reds and oranges, which later would be replaced by blacks and beiges. He worked with a chamotte clay with a granular aspect, the decorations are formed by shiny enamels often on a matt background, or engraved directly on the glaze.
One of André Borderie's major preoccupations was to incorporate art into life. Thus, in 1955, he joined the groupe Espace, led by André Bloc. In 1957, he left the Székely couple and moved to Senlis where he continued to produce pieces, with generous shapes like his famous " Têtes lumineuses " (trans. Luminous heads). In 1961, he called upon another ceramist, André-Aleth Masson, to help him produce large-scale pieces. Together they created a huge black enamelled bas-relief in ceramic for the EDF head office (French public power company) in La Défense.
The emergence of the biomorphic forms of the period are evocative of André Borderie's plastic research, which also extended to painting and tapestry. He exhibited mainly at the Colette Allendy Gallery, known for having displayed, among others, Yves Klein, François Morellet and members of the Cobra group.
The end of the 50s is marked by André Borderie's interest in tapestry. Encouraged by Denise Majorel, co-director of the gallery La Demeure, he excelled in this new medium and received in 1962 the great Prix national de la Tapisserie."(Great National Tapestry Award). That same year, he took part in the iconic exhibition " L'objet – Antagonismes 2″, at the Musée des Arts Décoratifs, under the aegis of François Mathey. André Borderie presented on this occasion a granite coat rack and a light fixture in expanded polyester.
André Borderie kept creating until the end of the 70s and has been represented throughout his career by the MAI gallery. The man for whom "the size of a work does not depend on its size, but on the energy it generates" died in 1998. Throughout his career, he participated in the revival of French ceramics.